Melarsomine
Melarsomine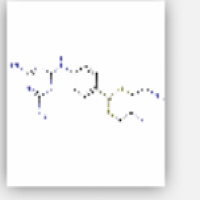 Product name : Melarsomine
Synonyms: Melarsominum;Arsonodithious acid
CAS No. :128470-15-5
Molecular Formula:  C13H21AsN8S2  
Molecular Weight:  428.411
Product description: This product is the drug of choice for the first stage and is effective for killing adult heartworms living in the arteries of the lungs.,it is an arsenic-based drug. Although these drugs are known to kill adult heartworms, the exact method of the killing action is unknown.Melarsomine administration does not result in arsenic poisoning,it is a prescription drug and can only be obtained from a veterinarian or by prescription from a veterinarian.
Please feel free to

  for: Product Quotation ( Product suppliers),COA (Certificate of Analysis), New Sales
Promotion,New Products,And any other assistance.

After send online enquiry, we will reply you as soon as possible, if not get any response on time please contact us by Tel or Email.
1. Email: sales@aushealthingredients.com
2. Tel: +86 592 536 5868
3. WhatsApp: +86 189 6516 2351
4. Send enquiry online: